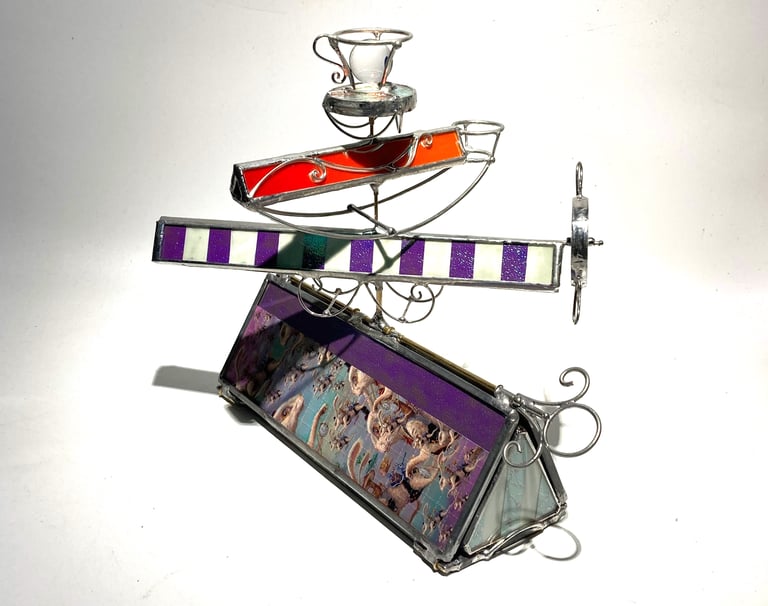 Ready for an adventure with Alice in Wonderland?
This piece is made from Alice in Wonderland blotter art designed by @sander_bos_art and @kamiel.proost, and printed by Paul Guest. It has two kaleidoscopes that sit on top: one with a glow in the dark rainbow dichroic wheel that you spin to change the patterns inside, and a second that has an open object chamber where you can switch out different marbles in your collection to create an infinite amount of visuals. It includes a glass teleidoscope marble where you can literally scope out anything by moving around in your environment. A tea cup sits up top to hold additional marbles.
Each kaleidoscope can be easily removed so you can begin to explore what's hidden inside the display stand. When you remove the metal bar that acts like a key, you are then able to open the display stand completely and view the other side of the double sided blotter art print, to reveal the hidden stash box inside. This is a super fun one of a kind piece to explore for a new perspective in life, and keep some treasures hidden away ;)
This piece fits marbles from 18mm - 22mm in size, and a UV flashlight is included to quickly charge the glow. All of my kaleidoscopes are sealed with clear glass on both ends to keep the mirrors free of dust, for a crystal clear view that lasts a lifetime.
Total Dimensions (including stand) - 9.65" long x 8.50" tall x 3.25" wide
Display Stand Dimensions - 8" long x 3.25" tall x 3.25" wide
Stash Box Dimensions - 8" long x 2.15" tall x 2.50" wide