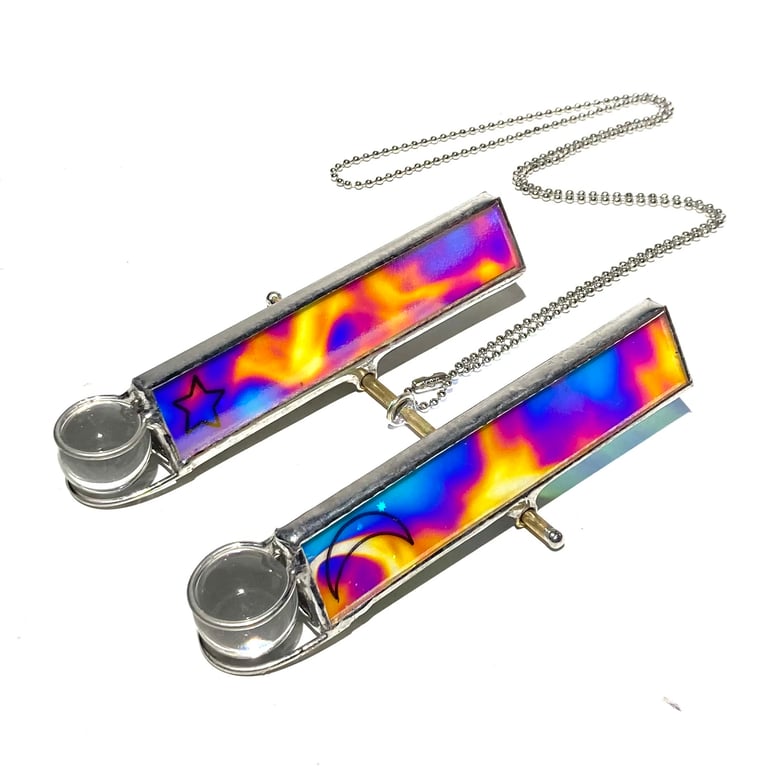 This piece is made from glow in the dark rainbow dichroic glass with interchangeable marbles to create an infinite amount of visuals. The scopes slide to side to side to fit the width of both eyes, so when they are perfectly lined up the visuals merge into one image.
This is a teleidoscope style where you can literally scope out anything by moving around in your environment to change the patterns inside. Some of my favorite things to scope out are trippy videos, a festival concert, or things out in nature, and is a super fun piece to go exploring with for a new perspective in life ;)
This piece fits 25mm marbles. A UV light is included to quickly charge the glow in the dark as well as a carrying pouch. All of my kaleidoscopes are sealed with clear glass on both ends to keep the mirrors free of dust, for a crystal clear view that lasts a lifetime.
Kaleidoscope Dimensions - 4.85" long" x 4.25" wide x .75" tall