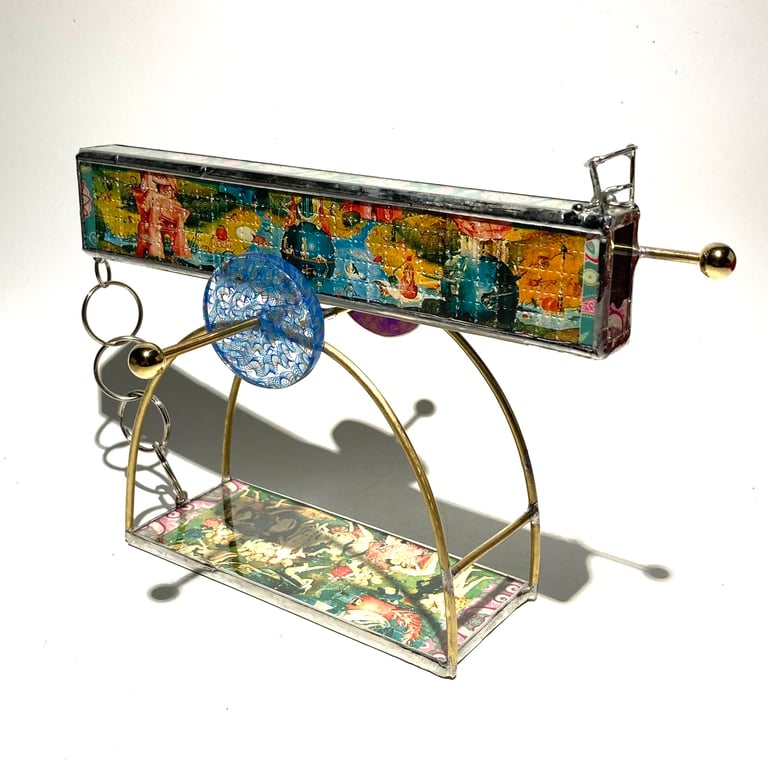 This piece is made from Hieronymus Bosch blotter art printed by Zane Kesey with interchangeable glass wheels to create an infinite amount of visuals inside. It comes with a twist cane wheel created by @xanderdamglass, and a reversible iridescent black wheel with a glow in the dark pattern side. You can create different visual effects by inserting an led or UV light to illuminate the inside. You can also make the inside chamber glow in the dark by shining a UV flashlight directly inside. I made the rods longer on the sides so you can store extra discs from your collection. Extra discs are available upon request.
This is a super fun one of a kind piece to explore in both light and dark environments for a new perspective in life ;)
A UV flashlight is included to quickly charge the glow. as well as mini led lights to illuminate the visuals inside the scope. All of my kaleidoscopes are sealed with clear glass on both ends to keep the mirrors free of dust, for a crystal clear view that lasts a lifetime.
Kaleidoscope Dimensions - 9" long x 7.25" tall x 6.25" wide
Wheel Diameter - 1.75"